Navigation Pane Options...

The Navigation Pane replaces the Database Container found in Access 2003 and lower. When you open a database it is permanently docked to the left. Below are a few of the things you can do via the Navigation Pane. Click the letters to jump to the screen shot...
Or you can hide the Navigation Pane entirely by unchecking Display Navigation Pane under Navigation on the Options menu. Now, if after all the this you still can't adjust to the Navigation Pane, have a look here...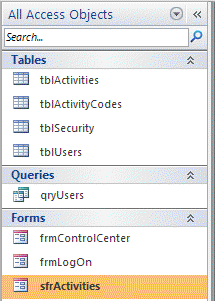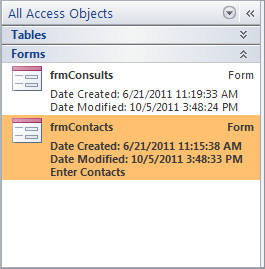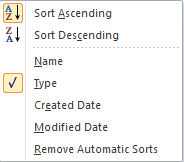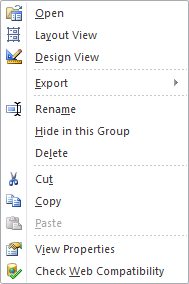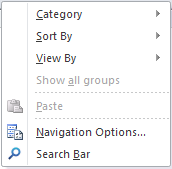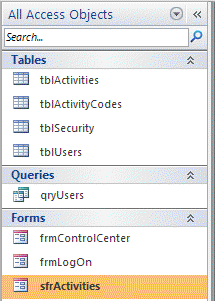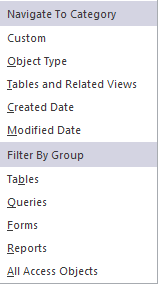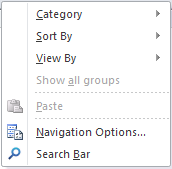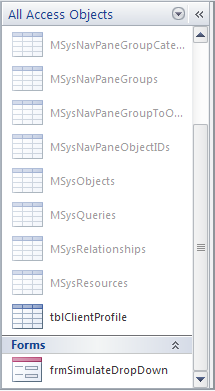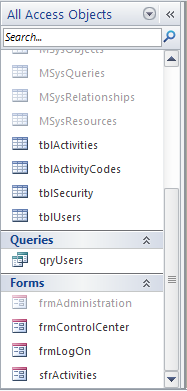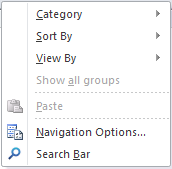 Details allows you to see Date Created, Date Modified and any Description you might have entered.
Icon allows you to see the Object Icon and the name you assigned to it.
List allows you see an Icon view view only smaller with no Details.
From here you can select Display Options (Show Hidden Tables, Show System Objects, as well as, Show [or Hide] the Search Bar) and how to open your Objects (Single or Double Click). You can also add Categories and/or Groups...
While you can Sort by many things, sorting by description is gone. For some of us this was a handy thing as you could put things like...

Step 1
Step 2

...and so on. Well, you can still do that just using Groups instead. You can then assign your Object any name you like, such as...

Step 1 - Run this query first
Step 2 - Run this Update query second
etc...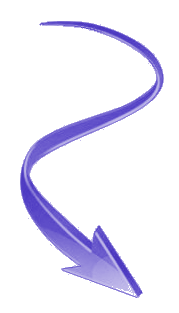 Entering a Description here shows above..
.
The difficult I do immediately, the impossible takes a little bit longer.


| | |
| --- | --- |
| | To Show/Hide the Search Bar you can either right mouse click on the Navigation Pane and select/deselect or go to Navigation Options and select/deselect from there. |
| | Change the way you display (view) your Objects |
| | Navigation Options |
| | Change the your Objects are sorted |
| | Using the drop down you can Navigate to Category (also available from *I* under Category) or Filter By Group |
| | Right-mouse click on individual Objects (Tables, Queries, Reports, etc.) in the Navigation Pane for options |
| | Enter a Description for individual Objects (Tables, Queries, Reports, etc...) here |
| | Hide (or show) individual Objects from here by checking the Hidden (or unchecking) the check box |
| | By right mouse click on the Navigation Pane on the title bar (All Access Objects) you can get to options like... Category, Sort, removing (or showing) the Search Bar and more... |
| | Shutter Open/Close the Navigation Pane |

This site uses cookies to collect data on usage. By continuing to browse this site you consent to this policy. Find out more here.